Through the Make Magazine weblog I have found a website called Osalt (open source as alternative) which shows what alternatives there are for Commercial software in open source software.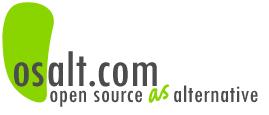 Now, of course it would be better to start with open source software in the first place, but more often than not people are used to certain propietary software to do certain tasks, and they have a hard time changing those software habits.
With this website you can check whether there is an open source alternative for the proprietary software you use/know etc.
An example:
I want to replace Ph*t*sh*p by an open source alternative.
In the software directory I choose Graphic applications, low and behold, Ph*t*sh*p is in the list.
I get a list of comparable open source programmes, or applications that have similar possibilities (whether partial or completely) as the proprietary software.
What I really liked about this website was, that first of all I got more than just the Gimp (Gimp is good!!) and secondly that the compatibility with which operating system is also included (whether you are a linux, mac or wind*ws user).
Part of a screenshot: